Global Community Building
Through the facilitation of international exchanges, the World Trade Center Northern California (WTCNC) connects California's capitol city with the world.  Annually, the Sacramento office hosts nearly 500 international visitors through various exchange programs, showcasing the wealth of knowledge, cultural diversity and innovative spirit in the greater Sacramento and Central Valley regions.
Working in conjunction with the U.S. Department of State, Global Ties US, and other national agencies, the WTCNC develops informative and uniquely designed exchange programs, providing visitors the opportunity to learn, connect and share ideas with local community members. In addition to professional meetings, visitors engage on a more personal level, cultivating lasting relationships through cultural experiences, volunteer opportunities, school visits and more.
---
Program Expertise in Sacramento
The World Trade Center Northern California cultivates and maintains relationships with hundreds of area businesses, organizations, state agencies, and government officials to create impactful exchange programs. Top programming areas include:
Agriculture, Agri-tourism, & Food Policy 
Accountable & Transparent Governance
Clean Energy & Environmental Issues
Entrepreneurship & Innovation
Health Technology & Medicine
Media & Combating Disinformation
Water Resource Management
Women's Empowerment & Leadership
U.S. Foreign Policy & Trade Relations
Read about our upcoming programs and visitors. Learn more about past visitors and their time in Sacramento.
---
Types of Exchanges
With almost 20 years of experience in diplomacy and trade programming, the World Trade Center Northern California has established itself as a culturally fluent and successful global exchange partner. The programs we coordinate range from short-term exchanges to multi-week fellowships. Our portfolio includes such programs as:
---
Regional Impact
In addition to cultivating partnerships that enrich the Sacramento region, the international exchanges also have a positive economic impact. While in Sacramento, visitors stay in hotels, utilize transportation companies and public transit, eat at local restaurants, participate in cultural activities – all which contributes to the local economy.
In 2018, the International Visitor Leadership Program alone brought nearly 500 international visitors to Sacramento, generating more than $620,000 for the greater Sacramento region. Regional volunteers also donated over 2,500 hours of service to assist our mission. The International Visitors Leadership Programs generated more than $6,000,000 for the statewide economy in 2018.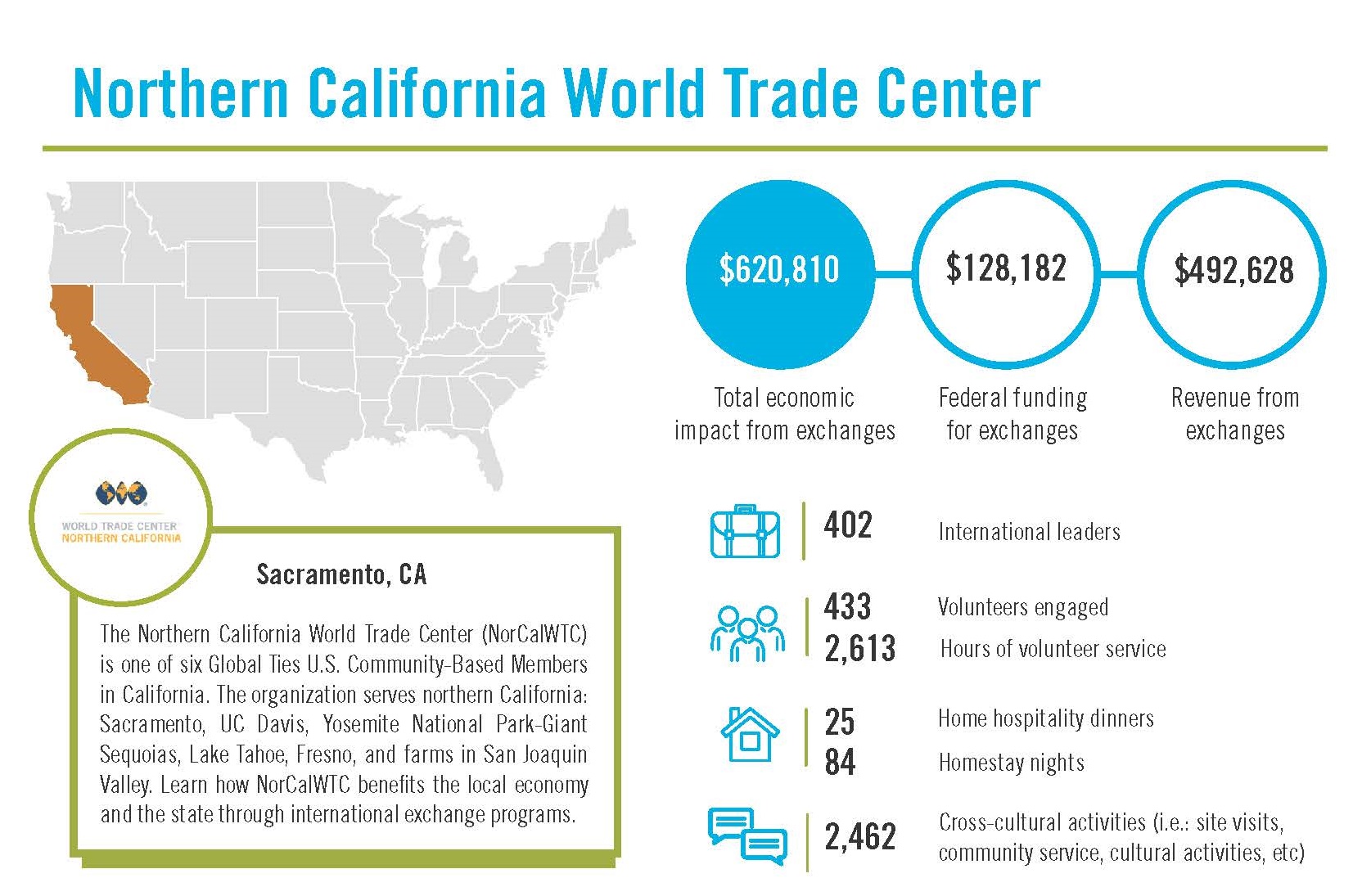 ---
Explore Citizen Diplomacy
To learn more about how you can become involved in exchanges and citizen diplomacy, please click here.