Host International Leaders for Dinner
Nothing sets the table for mutual understanding better than sharing a meal with international visitors.  Hosting a dinner for the current and emerging leaders participating in our International Exchanges is an excellent way to exercise everyday diplomacy and be an ambassador for California.
Why Host?
Home hospitality dinners make a lasting impact on the international visitors because they create opportunities for one-on-one conversations and a deeper appreciation for the commonalities of life. Whether it's a summer barbeque in the park or a casual dinner with family and friends, these visits often lead to long-term friendships that offer a welcoming window for visitors while they're in the U.S. and for hosts who travel abroad.
Apply to be a Home Host
Are you interested in hosting a dinner for international visitors or otherwise participating in this program?
Details
Home hosting is typically a 3 to 4-hour dinner at your home one evening, but occasionally there is a need for overnight home stays. You may host an entire group or a pair of visitors.
If the visitors do not speak English, the Northern California World Trade Center will arrange for an interpreter to accompany your guests for the evening. Our office will also provide you in advance with information regarding the visitors' dietary needs or other restrictions, along with details of their program.
---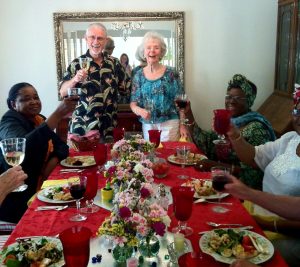 "Martin and Dren were two very interesting people and we talked until it was dark and time for them to leave.  It feels as though we have traveled to a foreign place for a little while.  Much better than going to the movies. Thanks for the opportunity to participate."– Gwen Tilton, Home Host