Looking for business opportunities to retool or expand to better compete and react to changing business conditions. Learn how SBA Export Loan Guaranty Programs can assist your international business become more competitive and increase global sales while reducing financial risk.
Become More Competitive  |  Mitigate Risk   |   Increase Global Sales
SBA loan guarantees traditionally range from 50-75%, while SBA Export Finance programs offer a guaranty up to 90% of the loan amount.
What you will learn:
✓  How to use SBA Export Finance Programs and other tools to enter international markets.
✓  How SBA Export Finance Programs incentivize lenders to loan to small and mid-size businesses.
✓  The benefit of pre-export finance to compete more effectively.
✓  How to attract international buyers with open account credit terms.
Speakers

James Newton
Export Finance Manager, Small Business Administration, Office of International Trade
Jim Newton has an extensive background in commercial lending, export finance, and risk management. Jim joined the Small Business Administration Office of International Trade in January of 2015. He currently serves as the Export Finance Manager for Oregon, Southwest Washington, Northern California & Northern Nevada delivering SBA's Export Working Capital, Export Express, and International Trade Loan Programs.
Prior to SBA, Newton was Director of Credit Portfolio Management for the Small Business Group at the Export-Import Bank of the United States. In that capacity, he served as Co-Team Lead for development and implementation of the Global Credit Express (GCE) – Direct Loan Program as well as Acting Vice President of the Small Business Finance Division.  Mr. Newton had previously served as a Financial Manager for FDIC, Team Lead for Bank of America's National Margin Maintenance Team, and Director of the California Export Finance Office.   Altogether, he has 35 years of banking experience.  He holds a bachelor's degree in business administration from Oklahoma State University and has completed the coursework for the MBA Program at the University of Texas at Austin.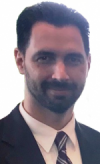 Michael Fazio
Export Finance Manager, Small Business Administration, Office of International Trade
Mike Fazio is an Export Finance Manager with the U.S. Small Business Administration (SBA). Based in Chicago, he works with banks and SBA Resource Partners throughout Illinois and Wisconsin to increase access to capital for small business exporters.
Previously, he was a Financial Analyst in SBA's Office of Credit Risk Management, a Lender Relations Specialist and the District International Trade Officer at SBA's Wisconsin District Office, and most recently an Export Development Officer for SBA's Office of International Trade.
Prior to joining SBA, Mike's career positions included work in commercial asset review with theFederal Deposit Insurance Corporation (FDIC) and commercial lending with a Midwest-based regional bank. He is a graduate of the University of Wisconsin-Milwaukee's Executive MBA program, which featured an international residency in Vietnam
Reasonable accommodations for persons with disabilities will be made if requested at least 2 weeks in advance. Contact: Breana Palmer.
The information provided in this webinar and any supplementary materials provided are intended for educational and informational purposes only and does not constitute professional financial or legal advice. By registering for this webinar, you accept and agree to the full disclaimer available at https://zoom.asksbdc.com/SBDC_Webinar_Disclaimer and that under no circumstances shall the named parties be held liable for any claims, losses, or damages arising out of or in any way related to the information provided in this webinar and/or the registrant's use of or reliance on said information.