World Trade Center Northern California offers Global Connections, a virtual international leadership program for high school and college students. Participating in this 4-week course, students will gain diplomatic skills, leadership experience, international exposure and make important career-enhancing connections.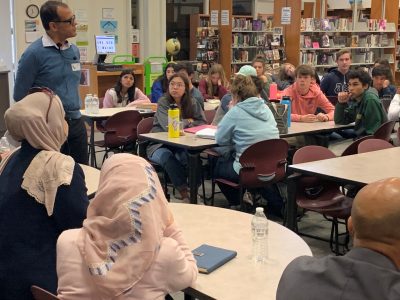 Participants will have the opportunity to increase their global and cultural awareness, engage with emerging international leaders, and build new relationships.
Program Description
A four-week virtual course for students to enhance leadership and diplomatic skills and make important global connections.
Participants will:
Engage with emerging international leaders who have participated in the International Visitor Leadership Program to gain insight into cultural, political and economic differences and similarities around the world
Meet with representatives from the various international careers and the international exchange network regarding potential career paths
Learn valuable public speaking, leadership skills and hone research and writing skills
Expand their networks and connections around the world
Students will dedicate approximately 5-8 hours each week to the program, which will include virtual Q&A sessions, leadership exercises, research, reading and oral presentations.
The program runs from July 13-August 7, 2020.
Who is eligible to participate?
The program is open to high school and college students with a GPA of 3.0 or higher and an interest in global affairs, international relations and/or international business. Students will need access to a computer or laptop and internet access. To benefit most from the program, it is suggested students commit to a minimum of 5 hours per week. There is no cost to participate in this program.
Submission process to participate:
Click here to apply. Please complete the application form and submit by July 8, 2020.
Contact Kim Todd at ktodd@norcalwtc.org with any questions or for more information.
Week 1
Introduction / Meet your Cohort
Focus on teamwork and bonding exercises
Communication strategies
Setting goals / defining areas of interest for Capstone Report
Week 2-3
Expanding Global Connections
 Virtual sessions with IVLP alumni
Alumni will be from a variety of countries – participants will research the country of origin and learn something new (cultural, political systems, history, economy) prior to sessions
Alumni will represent various industries – participants will research the industries to gain insight into operations in that country (i.e. green energy, agricultural innovation, etc.)
Sessions will be facilitated by WTCNC staff, although, participants will prepare questions and practice their public speaking and engagement skills
Virtual sessions with representatives from various international careers
Sessions will provide international career options and methods for achieving those positions
Sessions will include sessions with Global Ties Emerging Leaders
Virtual sessions with US industry representatives
Meetings will be arranged with representatives from the same industries as the IVLP alumni, so participants can learn about similarities/differences in how the US operates compared to other countries
On-going research about various countries/industries/international careers
Exploration of different governmental structures around the world
Focus on increasing cultural knowledge and fluency
Discuss current global events
Week 4
Capstone Week
 Synthesis of lessons
Participants submit written report and present oral reports to their Cohort