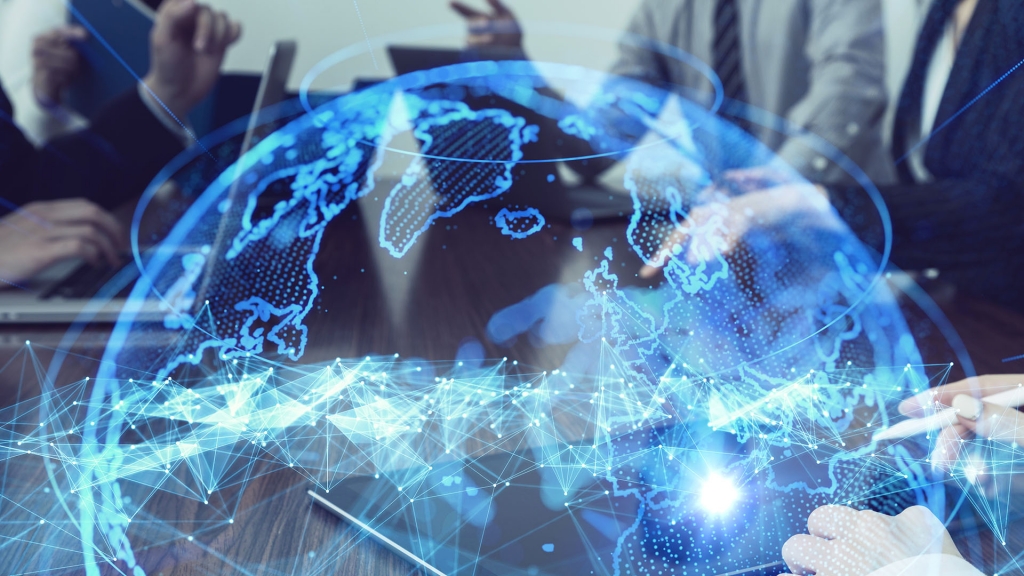 World Trade Center Northern California had the pleasure to welcome Pete Mento to speak at its "Global Outlook 2021" webinar on January 26, 2021. Mento gave an insightful rewind of the historical events of 2020 that impacted our global economy – the COVID-19 pandemic, the ensuing economic crisis, ongoing trade wars, and "solar winds" (the largest cyber-attack in history). He discussed trade, transportation, the global economic recovery, and a post-COVID world. Read on for a summary of his presentation.
Consumption, a factor of recovery
Discussing IMF's estimated global GDP growth of 5.4 percent for 2021, Pete is cautiously optimistic. He ties growth to an increase in consumption by the West and continued positive output from the East and believes recovery will depend in part on the current vaccine rollout. The length of time it takes for people and businesses to re-engage within a social environment will have broad implications on the economic recovery. Historically, when there has been a massive recession or global financial crisis, the U.S. economy has led the recovery. Mento noted however that today, among economists, the discussion is towards the inclusion of global markets and less U.S.-centric. He indicated that this is not easy to do when the U.S. leads in global consumption, noting American's contribute 54% of the money spent on worldwide consumption and represent only 8% of the worldwide population.
The U.S. and European economies have slowly begun to recover. In contrast, Asian economies were able to rebound by the end of 2020 and head into 2021 better positioned. Mento noted BREXIT could have a more profound impact on European Union markets than expected.
Transportation of Goods
The pandemic set up challenges in shipping capacity and pricing for international business. Carriers began to restrain capacity to control markets. Pete predicts prices will continue to increase for the foreseeable future. Ocean and air carriers that have struggled for some time see the current environment as an advantage. He recommends businesses look at their supply chains for areas of inconsistencies or problems in processes to find opportunities.
Trade Tariffs 32, Chapter 29 deim inimus 2021 is the year retails will try to find ways to bring in produce under not pay for tariffs. e-commerce diminus threshold encourages e-commerce
Rise of cross-commerce wave of the produc American consumer can bring in tariff free.
Business Courriesrs are getting
Trade will push.. Customs is getting
The inclusivity of having people globally engaged is the best thing that can happen for their economy".
What's next in the trade war with China?
The purpose of the trade war with China was not to reinvigorate American manufacturing but to protect American intellectual property. Unfortunately, the U.S. economy saw significant job losses due to the tariffs. Pete explains that American manufacturers' current expectations are that the Biden administration finds a way to deal with China's continued theft of global ideas.
While the U.S. is engaged in many trade wars, negotiations with China are at a standstill. The issue of cyber theft of intellectual property has not been properly addressed. Mento expects it will be top of mind in 2021, and the new administration will look to find effective ways to force China to respect intellectual property, worldwide.
What can we expect to see?
Acceleration of the innovation economy – refocusing efforts on developing and investing in ag-tech, medical devices, aerospace, and space exploration.
Congressional bailout for air carriers – continued decrease in domestic and international travel will require additional financial intervention for the airline industry.
Strategic national stockpiles of PPE – expect an injection of massive legislative spending into the economy to manufacture protective gear.
Research in the automation of goods manufacturing and supply chains – COVID demonstrated the impact to production and supply chains absent automation. Investment in robotics and supply chain automation will stimulate economic growth and job creation.
Supply chain cybersecurity – the government will look to investigate and invest in securing ports and infrastructure from cyber-attacks.
We can all agree that the disruption in 2020 presented unprecedented challenges. Pete believes that we will continue to experience economic headwinds through the first half of the year and can expect to feel the recovery take hold by the end of 2021. We invite you to watch the webinar video recording.
Pete Mento is a global customs and trade consultant and host of TradeGeek Podcast, a humorous, non-political discussion on international trade and customs, logistics, supply chain, and economics. Supported by the World Trade Centers Association, TradeGeek Podcast enjoys over 10,000 followers.