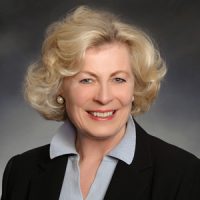 Susanne Thorsen Stirling has headed CalChamber international activities for four decades.
She is an appointee of the U.S. Secretary of Commerce to the National Export Council, and serves on the U.S. Chamber of Commerce International Policy Committee and the California International Relations Foundation.
In previous years, Stirling was an appointee of Governor Edmund G. Brown Jr. to the California International Trade and Investment Advisory Council, and served on the Board of Directors of the International Diplomacy Council, the World Affairs Council of Northern California (Sacramento), the Danish-American Chamber of Commerce, and the Chile-California Council.
The CalChamber is a past recipient of the U.S. Presidential Award for Export Service, and received the Presidential Citation from the government of the Republic of Korea. In November 2019, Stirling was presented with the "Outstanding Woman of the Year in International Trade" award by the Women in International Trade, Los Angeles (WIT-LA).
Before joining the CalChamber, Stirling held positions in public affairs and public relations for Burmeister & Wain A/S, an international shipbuilding company based in Copenhagen.
Stirling, originally from Denmark, studied at the University of Copenhagen and holds a B.A. in international relations from the University of the Pacific, where she now serves as a member of the Board of Regents. She earned an M.A. from the School of International Relations at the University of Southern California.