Globally Aware. Globally Oriented. Globally Fluent.
Together with the Brookings Institution and dozens of economic development partners, we're building a better export environment for businesses in the California Capital Region. Read the plan.
Defining the Metropolitan Area
The six-county Capital Region consists of El Dorado, Placer, Sacramento, Sutter, Yolo, and Yuba counties, covers 23 cities, spans roughly 6,300 square miles and comprises 2.3 million residents, making it the 4th largest metropolitan region in California and the 25th largest in the United States.
Guides and Plans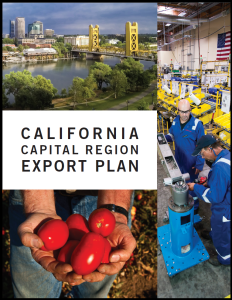 Download the California Capital Region Export Plan.
Download the Brookings Institution's ten-step guide to building a metropolitan export plan.
Read more about Next Economy, the Capital Region Prosperity Plan, of which the Export Plan is part.
 Strategic Partners
This plan and its implementation are supported by a large number of partners across the region, and is only possible with the collaboration of so many forward thinking institutions.
Champion Organization
Northern California World Trade Center
Core Working Group
CalAsian Chamber of Commerce
Center for Strategic Economic Research
Sacramento County
Sacramento Metro Chamber of Commerce
SMUD
Steering Committee
Bank of America Merrill Lynch
Blue Diamond Growers
California Chamber of Commerce
California State University, Sacramento
Center for International Trade Development
Center for Strategic Economic Research
City of Sacramento
City of West Sacramento
Consulate General of Mexico in Sacramento
County of El Dorado
County of Placer
County of Sutter
County of Yolo
Devine Intermodal
Downey Brand
Drexel University
Governor's Office of Business and Economic
Development
Harris & Bruno International
Integrity Global Management
Los Rios Community College District
Sacramento Area Commerce & Trade Organization
Sacramento Area Council of Governments
Sacramento Asian Chamber of Commerce
Sacramento Hispanic Chamber of Commerce
U.S. Department of Commerce – International
Trade Administration
USDA Rural Development
U.S. Small Business Administration – Office of
International Trade, U.S. Export Assistance Center
University of California, Davis
Williams + Paddon Architects